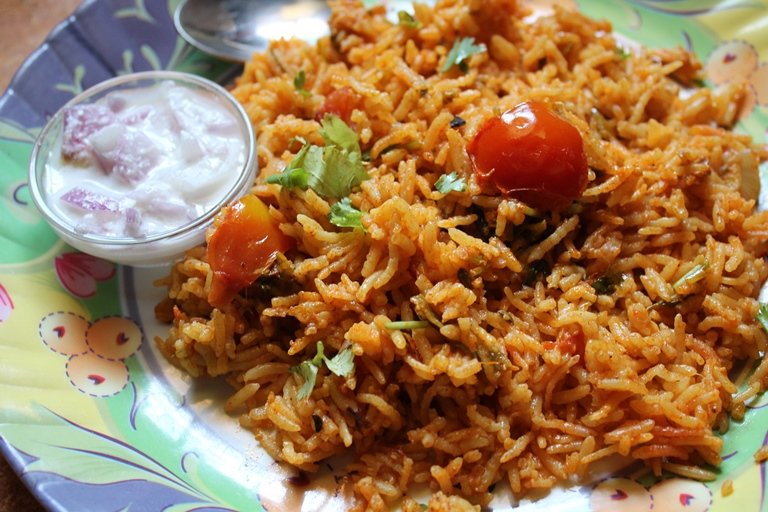 Delicious Rice in tomato flavor
Ingredients:
2 cups basmati rice
2 tablespoon ghee
1 onion finely chopped
4 tomatoes medium sized finely chopped or 3 cups tomato puree
1 1/2 teaspoon cumin seeds
4 cloves
1/2 inch cinnamon stick
1 bay leaf
1 1/2 teaspoon cardamom powder
2 whole red chilies (as per taste)
1/4 teaspoon garam masala powder
Salt to taste
Method:
1. Wash rice thoroughly with water and soak for 15-20 minutes. Drain and keep aside.
2. Heat ghee in a pressure cooker, add cumin seeds, cloves, cinnamon, red chilies, bay leaf and allow it to crackle.
3. Add onion and saute until golden brown.
4. Now add chopped tomatoes or tomato puree and saute until oil separates.
5. Add ground cardamom powder.
6. Add rice and stir for 2-3 minutes. Now add salt.
7. Add 3 1/2 cups of water or approximately double the amount of rice in the pressure cooker and bring to boil. Cover the pressure cooker.
8. Bring to high pressure and cook for 8-10 minutes over high heat (1 whistle approximately). Reduce the heat to low and let it cook for 3-4 minutes more.
9. Turn off the heat and allow the pressure to come down naturally for 20 minutes.
10. Remove the lid tilting away to allow any excess steam to escape.
11. Stir gently and fluff up the rice before serving.
Cooking time: 30 minutes