Gatte ki subji, Rajasthani curry, Mangori, Pakodi and Ker Sangari, the traditional subjis, are part of the daily meals here. A papad plain or masala is a must to sum up meals, as a tradition in Rajasthan.
chick peas cooked in the sour gravy
Jhajhariya is a delicacy made of corn, milk, ghee and sugar garnished with raisins and nuts. Grated or coarsely ground fresh sweet corn is slowly roasted in ghee for few hours until it loses most of its moisture and assumes a dry granular form. The term Jhajariya is referenced in the advertisement for Google entitled Reunion that went viral. There is a video on YouTube which describes the recipe for making the same.
Churma is a popular Rajasthani delicacy usually served with baatis and dal. It is coarsely ground wheat crushed and cooked with ghee and sugar. Traditionally it is made by mashing up Bajri or wheat flour baatis or rotis in ghee and jaggery. It is usually rich in calories.
Ever since my childhood, I have been encouraged to have a tablespoon of this halwa every morning in the winters. I used to look forward to winters because of this morning ritual. This is a rich recipe and one can't have too much of it at one time but it is delicious nevertheless. It has been my all time favourite winter recipe.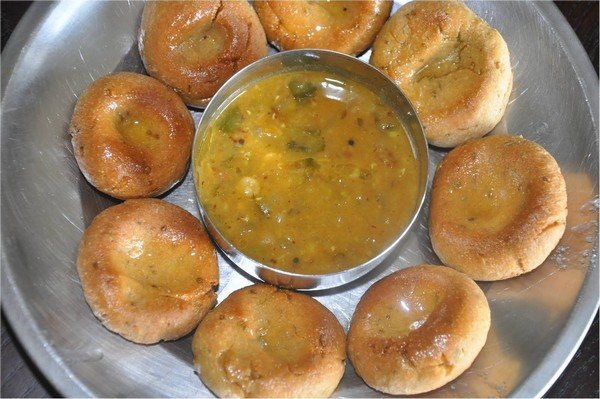 Dal Bati Choorma is a Rajasthani Dish which has three main servings Dal(lentil), Bati (baked wheat balls) and Choorma (sweet cereal powder). Dal is served with Bati and Churma. The preparations take longer as compared to other Indian dishes as all the three servings are prepared separately. It is one of the most common preparation in all kinds of functions, including religious occasions, wedding ceremonies and birthday parties in Rajasthan.
Heat ghee in a wide bottomed pan, and roast the Besan on medium heat till the raw smell of besan disappears and it turns a light golden color. Add the khoya to it and mix it well to remove any lumps in it. Take sugar in a separate bowl, add about ? cup of water to it Boil it for about 7 8 mins or till it reaches a thick 2 string consistency. Slowly, add the Besan Khoya mixture to the sugar syrup Keep stirring it continuously till it forms one big mass and the ghee oozes out of the mixture.