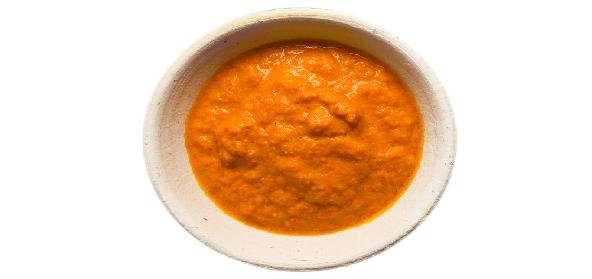 Ingredients:
• 200 g – urad dal(dehusked)
• 6 Red Chillies
• 6 Garlic Cloves
• 1/4 tsp – Jeera
• 1/2 tsp – thick Tamarind paste
• 1 onion, medium chopped fine
• salt
• For tempering:
• 1 tbsp – oil
• 1/2 tsp – Mustard Seeds
• Hing a pinch
• 10 curry Patta leaves
Method:
Dry fry urad dal till it gives a nice aroma, remove from fire and cool.
Fry 1 tsp oil fry red chilli, jeera and garlic for 1 min.
Make a course powder in mixie, add fried urad dal to the above powder.
Pour some water, salt and tamarind paste, run mixie for 2 mins to get a course paste.
Lastly, add onions and run mixie for 10 secs and remove the chutney into a bowl.
Heat remaining oil, put mustard seeds, hing and curry patta leaves.
Wait till the seeds splutter, add coriander leaves and pour this over chutney. Mix well.
Serve with plain rice along with a spoonful of ghee.
Recipe courtesy of Uma Devi Ramachandra