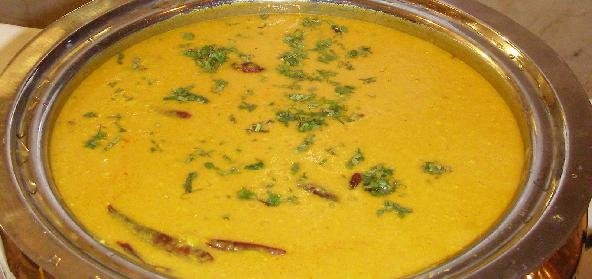 Ingredients:
• 400g – val dal (anapa ginjala pappu) soaked for 4hrs and inner dal is pressed out with thumb and index finger
• 2.5 tbsp – oil
• 2 potato, medium, peel and cut into 1 inch pieces (optional)
• Salt
• 1 tsp – Red Chilli powder (add 1/2 tsp extra if Potato is used)
• 1.5 tsp – Ginger Garlic paste
• 2 Cloves
• 2 Cinnamon
• 2.5 inch piece Bay Leaf
• 2 tomatoes, cut into small pieces
• 2 Onions
• 6 Green chillies
• 1 tbsp – coriander/dhania powder
• A pinch of Turmeric powder
• 2 tsp – chopped, coriander
• 1 tbsp – paste fresh Coconut and 1 tsp – Poppy Seeds
Method:
Heat oil in a cooker, add cloves, cinnamon and bay leaf, fry for a few sec.
Add turmeric powder, ginger garlic paste, fry for 2 mins.
Make a paste of onion, chillies and coriander powder.
Add onion paste, fry till the raw smell goes.
Add red chilli powder, tomato pieces, cook till the tomato becomes soft.
Add dal, salt and potato (if desired) and 250ml water, close the lid and cook.
Wait up to 3 whistles, remove the lid after 5 min, add coconut paste.
Mix gently and let it simmer for 2 to 3 min.
Sprinkle chopped coriander and remove from fire.
Serve this protein rich and delicious curry with fried rice/chapatti/poori/even idli.
Recipe courtesy of Uma Devi Ramachandra