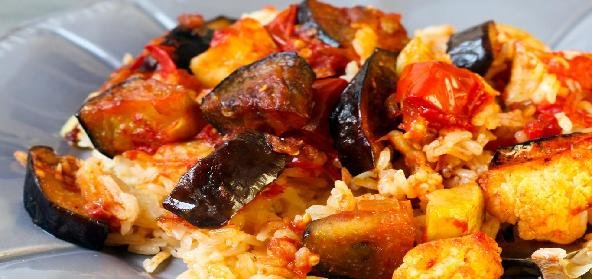 Ingredients:
• 3 – Egg plants
• 2 – medium-sized Onions
• 2 – medium-sized Tomatoes
• 1 cup – boiled Green peas
• 1 – big, green Capsicum
• 2 tbsp – Tamarind juice
• 3 tbsp – Vangibath powder (available in all Indian grocery stores. MTR brand preferred)
• 1/2 cup – grated dry Coconut (Kobbari)
• Salt to taste
Method:
Cut all the vegetables.
Heat the oil in a pan and add onions.
Saute the onions till light brown, add tomatoes and vegetables.
Cook vegetables in the oil and add salt to it.
Once the vegetables are cooked, add tamarind juice and stir for 1 minute.
Add vangibath powder and stir.
Cover the pan and cook for 2 minutes.
Finally, add the grated dry coconut and stir.
Mix this with rice and serve.
Recipe courtesy of Sify Bawarchi