Spicy and crunchy deep fried vegetable patties, popular Indian snack
Ingredients:
2 large potatoes, boiled and grated
2 slices bread
2 cups mixed vegetables (peas, carrots, cabbage, beans), finely chopped
1 teaspoon green chilies, chopped
1 tablespoon chopped green coriander
1/2 teaspoon garam masala
1/2 teaspoon mango powder
1/2 teaspoon red chili powder 2 tablespoon cornflour (or plain flour)
1/2 cup breadcrumbs
1 tbsp oil
Oil for deep frying
Salt to taste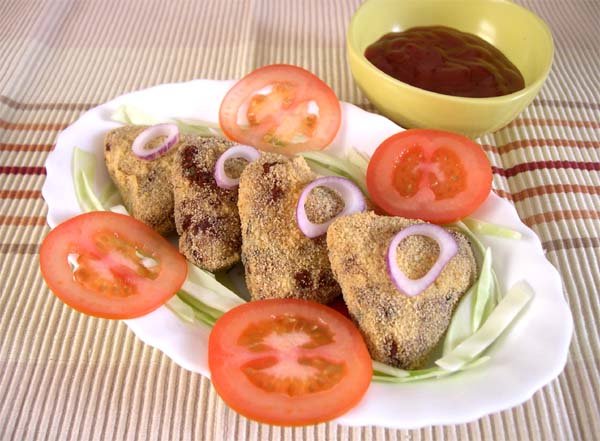 Method:
1. Soak bread slices in water and squeeze water by pressing it between your palms.
2. Mix potatoes along with the bread slices.
3. Heat oil, sauté mixed vegetables and cook until tender and dry.
4. Mix with the potato and bread mixture, mash well.
5. Add green chilies, coriander, red chilli powder, mango powder, garam masala and salt. Mix well.
6. Make a thin mixture of cornflour and water.
7. Take small portions of the mixture, press between your palms and shape into triangle or oval flat cutlets.
8. Dip cutlets in the flour solution, roll in the bread crumbs and deep fry, over high heat until golden brown.
7. Drain the cutlets on absorbent paper.
Cooking time: 35-40 minutes