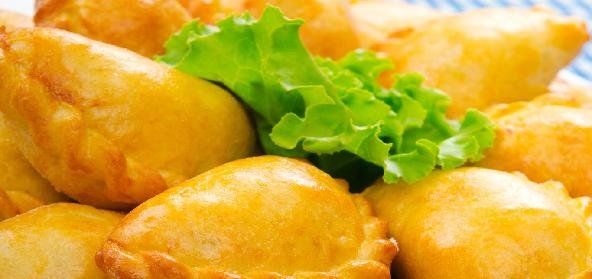 Ingredients:
• 1.5 cup – flour
• 1/2 cup – ghee/ clarified butter/ lard
• 1/2 tbsp – Jamaican curry powder
• 1/2 tsp – salt
• 1/4 cup – full-fat Milk or eggs
• 1/2 cup – cold water
• For the veg filling:
• 1 – small Cabbage
• 1 – small Tomato – chopped
• 2 tbsp – margarine
• A sprig of fresh Thyme
• 1 – crushed Garlic
• 1 – chopped small Onion
• Salt and pepper for taste
• 1/4 cup – finely chopped green bell-pepper
• 2 tbsp – oil
• 1/2 tsp – Jamaican Curry powder
• 1/2 tsp – chopped scotch-bonnet pepper for spicy flavour.
Method:
For the veg filling:
Heat oil and fry onions and scotch bonnet pepper till soft.
Add garlic and the spices, fry well.
Add the tomatoes followed by the finely chopped cabbage, thyme, salt and pepper.
Fry well, stirring occasionally.
Add a little water, cover and cook till the cabbage is done. Set aside to cool.
Making the pastry:
Pre-heat the oven to 450 degrees.
Knead the flour, turmeric, salt and ghee with water to form a firm dough.
Roll out this dough to 1/8 inch thick and cut 6 inch rounds out.
For extra flakiness in the patty-crust, brush the rolled out dough with ghee, fold and roll again. Repeat 3 times.
Cover with a moist cheese-cloth if you have yet to make the filling.
Uncover the dough circles and place 2 to 3 tbsp of filling on half of each.
Moisten the edges of the dough with water and fold the dough circle over the filling. Pinch the edges closed with a fork.
Lightly brush the pastry with a mixture of the egg and water (plain milk for veg patties).
Bake on a lightly greased baking sheet on the top wrack for 30-40 minutes or till the patties are golden brown.
Serve hot with some hot-n-spicy scotch sauce and a drink called cola-champagne you get at Caribbean/ Jamaican stores or restaurants.
Recipe courtesy of Mearl Fernandes