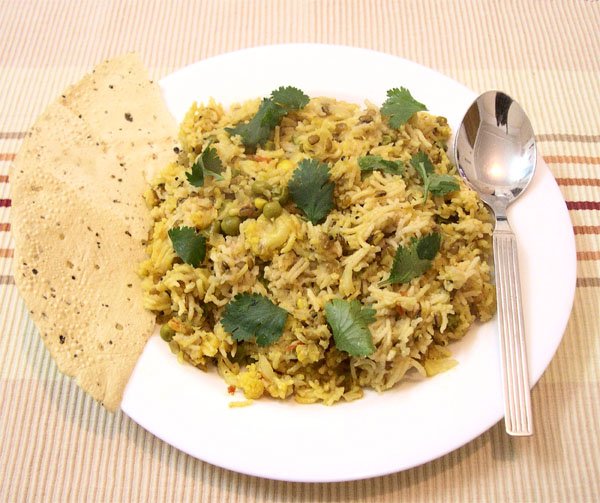 Quick and easy rice, lentils and vegetable preparation in spices
Ingredients:
1 cup rice
1/2 cup tuwar or arhar dal (split gram)
1 tablespoon chana dal (bengal gram)
1/4 cup chopped spring onion
1/4 cup chopped carrots
1/4 cup chopped capsicum
1/4 cup cauliflower, small florets
1/4 cup peas
1/4 cup chopped tomatoes
1 teaspoon ginger- garlic paste (optional)
1/2 tablespoon chopped green chilies
2 tablespoon ghee or oil
Small piece cinnamon
1 whole green cardamom
1 crushed green cardamom
2 cloves
1 bay leaf
1/4 teaspoon cumin seeds
1/4 teaspoon mustard seeds
1/2 teaspoon turmeric powder
2 teaspoon lemon juice
Salt to taste
Method:
1. Wash rice and the two dals together, soak in water for 10 minutes. Drain and keep aside.
2. Heat ghee or oil in a pressure cooker, add cumin seeds, mustard seeds, bay leaf, cloves, cinnamon, 1 whole cardamom, ginger garlic paste, green chilies, and allow it to crackle.
3. Add capsicum, sring onions and saute until transparent.
4. Now add tomatoes and saute for 2-3 minutes.
5. Add turmeric powder, cauliflower, peas and saute for 3 minutes.
6. Add crushed cardamom, rice and dal mixture.
7. Saute for 2 minutes, add salt and 2 cups water.
8. Cover the pressure cooker, bring to high pressure and cook for 8-10 minutes over high heat (1 whistle approximately). Reduce the heat to low and let it cook for 3-4 minutes more.
9. Turn off the heat and allow the pressure to come down naturally for 20 minutes.
10. Remove the lid tilting away to allow any excess steam to escape.
11. Serve hot.
Cooking time: 35-40 minutes