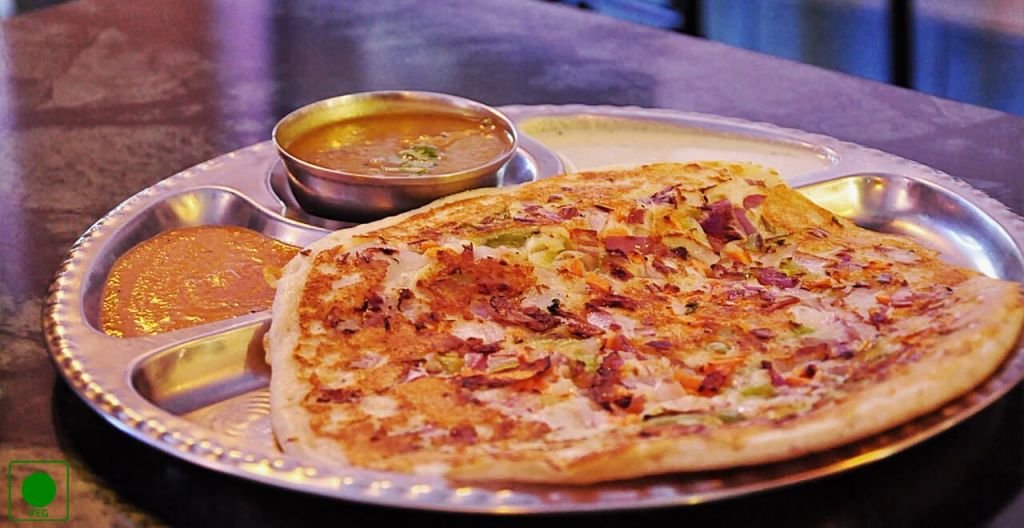 Vrat Ka Uttapam is fasting recipe that can be enjoyed as a snack during religious fasting days like navratri, ekadashi or any other fasting days. Unlike regular uttapam this uttapam taste very different because it is made from sama idli batter. The batter doesn't require fermentation. These vrat ka uttapam can enjoy with peanut chutney, green mint or coriander chutney or yogurt.
Ingredients
– 1 cup sama idli batter
– 1 small finely chopped tomato
– 1 finely chopped green chilli
– 1 tablespoon grated carrot
– 1/2 tablespoon chopped coriander leaves
– Oil as required
– A pinch of cooking soda
How To Make?
1. Take sama batter in a bowl and mix in the cooking soda.
2. Now, heat tawa over HIGH heat and once it hot reduce the heat to MEDIUM flame and with using a spoon or ladle pour the batter, don't spread the batter and don't rotate the pan.
3. After pouring the batter immediately top with little tomato pieces, chopped green chilli, coriander leaves and grated carrot.
4. Sprinkle a little oil all around to the uttapam.
5. Cover and cook on MEDIUM heat for about a minute or until underside is done.
6. When the base is cooked, flip it over carefully and again sprinkle a little oil around then cook till the other side is done.
7. Serve hot with peanut chutney, green mint or coriander chutney.
Preparation Time: 5-10 Minutes
Cooking Time: 10 Minutes