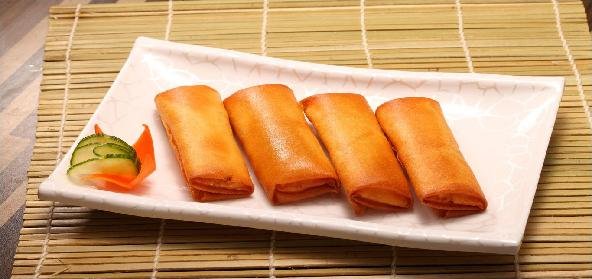 Ingredients:
• 2 cup – soft bread crumbs
• 1/3 cup – walnuts, finely chopped
• 2 tbsp – coriander leaves, chopped
• 1 – Egg
• 4 tbsp – Butter
• 2 tsp – garlic, minced
• 2 – green chillies, finely chopped
• 1/3 cup – flour
• 300ml – water or stock
• 30 ml – Milk
• oil to deep fry
• pepper
• salt
Method:
Melt butter, add garlic and fry till fragrant.
Add green chillies and flour, cook gently for 1 minute.
Remove the pan from fire and stir in the water or stock.
Mix till smooth.
Return the pan to the stove, stir till the mixture is thick.
Remove the pan from the stove.
Add salt, walnuts, coriander leaves and 1.5 cup of bread crumbs.
Cool the mixture and shape into 10 sausage shaped rolls.
Beat the egg lightly and mix with milk.
Dip the rolls in egg and milk mixture and roll in remaining bread crumbs.
Deep fry the rolls in moderately hot oil till golden brown.
Drain on kitchen paper.
Serve hot with ketchup.