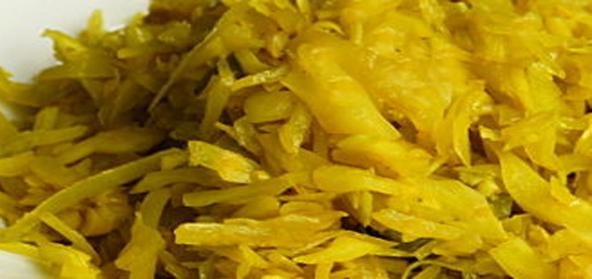 Ingredients:
• Small White Cabbage -1 (approx 600 grams)
• Turmeric – ¼ tsp
• Green chillies – 2 nos
• Salt – to taste
• Curry leaves – 1 sprig (optional)
• Oil / Butter – 1 – 11/2 tbsp
Method:
Remove the outer leaves and cut the Cabbage into pieces, then wash well under running water.
Cut Cabbage into wedges. Remove and discard the tough inner core.
Shred Cabbage using a knife, although shredding it in the food processor is easier, as it becomes watery.
Heat Oil / Butter in a non-stick pan.
Add remaining ingredients and cook uncovered on medium flame for 5 – 8 mins and is ready.
By covering the water does not escape making it soggy. Add Salt as mentioned at the start, this helps the Cabbage release water.
Serve hot with Ghee drizzled on Brown Rice, Dal Curry, a generous dollop of home made Yoghurt, microwave oven toasted Pappadam (Poppadam) and Lime Pickle.