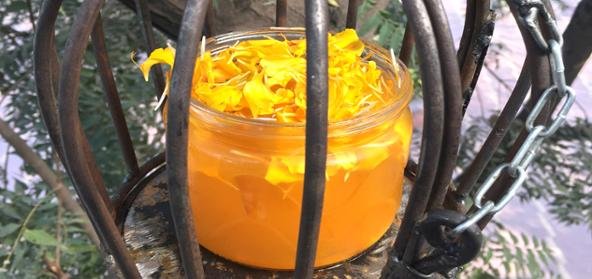 Ingredients:
• Glassware: A short jar
• 90 ml – Gin
• 60 ml – White wine
• 10 gm – Fresh Turmeric Paste
• 15 ml – Fennel syrup
• 30 ml – Freshly made lemonade
• Gondoraj to balance taste
• Marigold flower to garnish
Method:
To prepare the Turmeric paste, pound fresh turmeric and make a paste.
Add the paste, sugar and jaggery to a shallow pan on low heat and keep mixing till the sugar melts and the mixture turns to paste.
For the fennel syrup, soak the fennel seeds overnight.
Make a paste of the soaked fennel.
Separately, make a sugar syrup. Once cooled, mix both sugar syrup and fennel and squeeze the juice of the lime into mixture.
To make the cocktail, incorporate the turmeric paste, gin, white wine and fennel syrup to a shaker with ice.
Shake well and pour into the broad short jar filled with ice.
Top with lemonade for crispness.
Garnish with the petals of the marigold flower over the top to resemble the feathers of a yellow canary.
Place in birdcage.
Add a yellow straw and serve.
Recipe courtesy of Chef Sabysachi Gorai