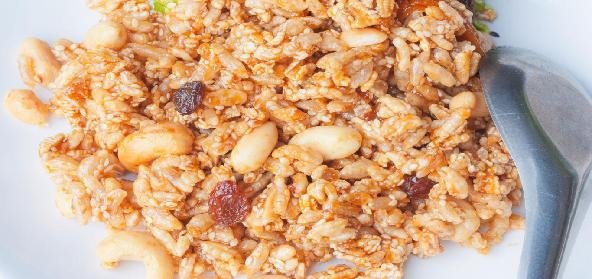 Ingredients:
• 1 cup – basmati Rice
• 2 tbsp – Ghee
• 1 cup – Sugar
• 1/2 tsp – Orange colour
• Some dry fruits and finely chopped Coconut
• 1 tsp – cardamom, big and small
• 2 tsp – crumbled khoya
• Vark (optional)
Method:
Soak rice for 1 hour. Boil the rice with food colour.
When it is 1/3 done, drain the water and spread on a clean cloth so that the grains do not stick to each other.
Heat ghee in a pan and fry cardamom for 1-2 minutes.
Add sugar and 2 tsp water. Boil until sugar dissolves.
Now, add rice, khoya and enough water and cook on a high flame till the excess water evaporates.
Cover and cook for 5 minutes on slow fire.
Add dry fruits and again cover for 2-3 minutes or till cooked.
Recipe courtesy of Santosh Bangar