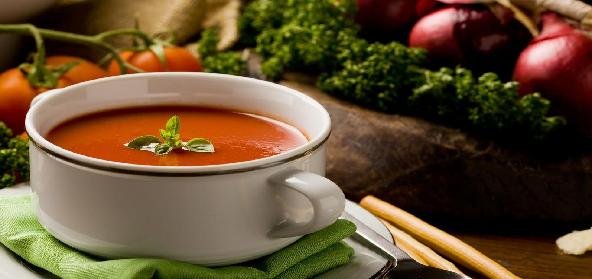 Ingredients:
• 5 – medium Tomatoes
• 50 g – Spinach (palak)
• 1 – Onion
• 1 tsp – Butter
• 1/2 tsp – red pepper
• 1 pinch – Hing
• 1 – small blob Butter
• 2.5 cups – water
• salt to taste
• pepper to taste
• water
Method:
Wash the tomato, spinach and onion well. Put in a large vessel and add 2-3 pinches of salt. Boil, covered, on high till soft.
After boiling for 3-4 mins, take it off the fire and put in colander. Pour cold water over it.
Then blend in a blender till it is smooth. Add water, mix and add to a deep pan.
Add all other ingredients, except butter.
In another pan, heat butter. Add red pepper and hing for tadka and pour over the soup.
Sieve and boil for 1 minute.
Serve with warm garlic rolls or soup sticks.
Recipe courtesy of Mukul Gupta