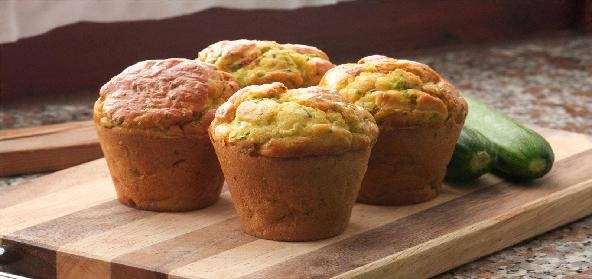 Ingredients:
• 1.5 cups – Zucchini (about 2 small), shredded
• 2 cups – whole grain pancake or biscuit mix
• 1 tsp – Cinnamon
• 1 tsp – all spices
• 2 – eggs
• 3/4 cups – Brown sugar
• 1/4 cups – unsweetened Apple sauce
• 2 tsp – fresh Lemon juice
• Little – powdered Sugar (enough to dust the muffins)
Method:
Wash zucchini and remove the ends.
Shred zucchini using the largest holes on the grater.
Wrap the grated zucchini in a couple of paper towels and squeeze, to remove water.
Measure 1.5 cups of squeezed, dry zucchini.
Preheat the oven to 375 degrees Fahrenheit.
Line a 12 cups muffin tin, with paper liners.
In a large bowl, mix whole-grain pancake mix(or biscuit mix), with spices.
In a separate bowl, whisk together eggs, brown sugar, apple sauce and lemon juice.
Fold the egg-sugar mixture and shredded zucchini, into the pancake-spice mixture ( do not over mix).
Fill 2/3rd of each muffin cup, with batter.
Bake for 10 to 15 minutes or until, golden.
Remove muffins from tin and cool on a wire rack.
Dust the muffins with powdered sugar.