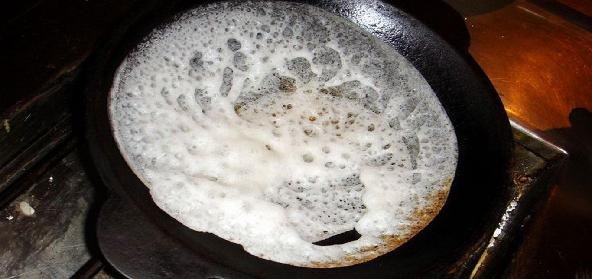 Ingredients:
• 500 gms – raw Rice
• 1/2tsp to 3/4tsp – baking soda
• salt
• oil to smear the aapam kadai
Method:
Wash and soak rice for 3 to 4 hours, put it in colander for half an hour to drain.
Spread the rice on a clean cloth and let it dry in a cool spot for 15 minutes.
Grind the rice in batches and sieve the flour till you get a very fine powder.
Boil one liter of water in a kadai. Add 6 to 7 tbsp of prepared rice powder while stirring continuously ( to avoid lumps) )to form a thin batter and let it cool.
Now add the remaining rice powder to the above batter. Add salt and leave it overnight to ferment.
Next day, add the required amount of water to prepare a thin batter (A little thinner than dosa batter)
Add baking soda, mix well and pour a big ladleful of batter on a thick bottomed greased khadai and rotate the khadai so that the batter will spread like dosa. The result will resemble the appam of Kerala.
Serve with a mixture of fresh grated coconut with some sugar and milk or coconut chutney.
Recipe courtesy of Uma Devi Ramachandra