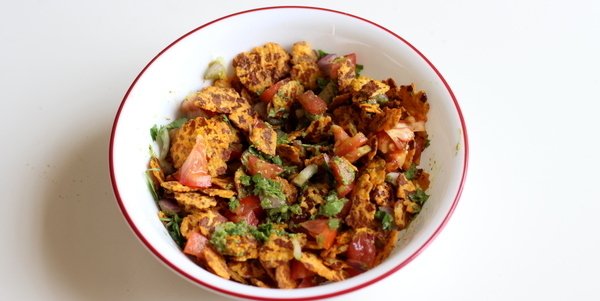 Chana Jor Garam is a traditional Indian street food. It's spicy, sour and yummy snacks. You can make Chana Jor Garam any time, easily at home. Due to its ?chatpata? taste children's love it. Lemon, tomatoes, onions, cilantro (coriander) gives yummy taste to the black gram. Rather than making a flattened black gram at home, you can also use a ready-made flattened gram. Make a tasty Chana Jor Garam with these easy to follow steps.
Ingredients
– 2 cup black gram
– 3 cups of water
– Oil
– 1 cup lemon juice
– 1 tablespoon turmeric powder
– A pinch of black salt (sanchal powder)
– 4-5 green chilies, finely chopped
– 1 tablespoon Chat Masala
– 1 tablespoon red chili powder
– Salt to taste
– 2 pinches Soda Bicarb
– 1 finely chopped onion
– 1 finely chopped tomato
– Chopped Cilantro (coriander) for garnishing
How To Cook?
Step 1: Clean he black grams and soak it in a bowl for overnight with plenty of water and soda.
Step 2: On the next day, drain the extra water from the black gram.
Step 3: With the help of the grinding stone, flatten each gram.
Step 4: Now, heat the oil in a kadhai and fry the flatten gram and fry it until it becomes crispy and a bit white in color.
Step5: Keep these black grams on the paper napkin to soak the excess oil.
Step 6: Now, Place the fried grams to a large bowl and add chopped, chilies, tomatoes, onion, turmeric powder, red chili powder and salt to it.
Step 7: Sprinkle Chat Masala and then add lemon juice to it.
Step 8: Garnish it with cilantro (coriander) and serve it.
Preparation Time: 10 Minute
Cooking Time: 20 Minutes