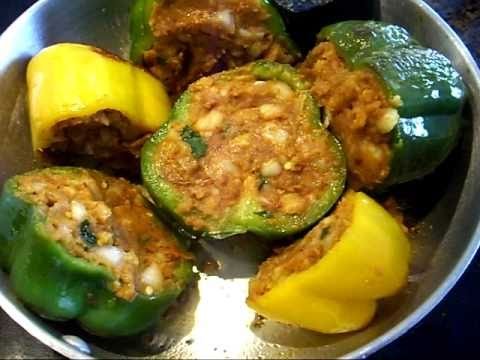 Healthy capsicum preparation stuffed with spicy onion and lentil filling
Ingredients:
6-8 small capsicum (shimala mirch)
1/2 cup chana dal (bengal gram), soaked overnight
1/2 cup moong dal (green gram), soaked overnight
1 chopped onion
1 teaspoon cumin seeds
1/2 teaspoon red chilli powder
1/2 teaspoon garam masala powder
1/4 teaspoon turmeric (haldi) powder
1 tablespoon chopped fresh coriander
1 tablespoon oil
Salt to taste
Method:
1. Cut the top of the capsicum horizontally (like a cap). Scoop out the seeds.
2. Blanch soaked dal in hot water.
3. Heat oil in a pan, add cumin seeds and allow it to crackle.
4. Now add chopped onion and fry until golden brown.
5. Add garam masala, red chilli powder, turmeric powder and fry for a minute. Add blanched dal. Mix well and cook until water dries off.
6. Stuff the capsicum with the filling prepared above.
7. Place stuffed capsicum in a greased oven tray and bake in a preheated oven for 15-20 minutes until capsicum are cooked.
8. Garnish with chopped coriander before serving.
Cooking time: 35-40 minutes