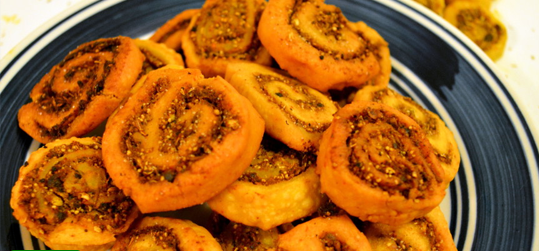 Bhakarwadi is a spicy diwali snacks recipe. Bhakarwadi is a deep fried savory snacks that is stuffed with gram flour, aniseeds, sesame seeds, coconut etc. You can make Bhakarwadi in advance for your Diwali celebrations and can store it for 10-15 days. You can enjoy Bhakarwadi with tea or anytime you want.
Ingredients
– 500 gm gram flour (besan)
– 100 gm grated, coconut
– 50 gm Aniseed, crushed
– 50 gm sesame seeds
– 1 cup lemon juice
– 3-4 tablespoon white chili powder
– 2 tablespoon pepper powder
– 1 teaspoon jeera powder
– Salt to taste
– 1 teaspoon turmeric powder
– Oil for deep frying
How To Cook?
For Stuffings
1. In a bowl, add gram flour, salt, turmeric powder, and oil and lemon juice and knead it and make a dough from it.
2. Now, in a frying pan add aniseed, sesame seeds, and grated coconut and fry it in 1 teaspoon oil then add chili powder, salt and sugar and mix well. Keep it aside.
3. Now, mix 1 tablespoon pepper powder to lemon juice and keep aside.
For Making Bhakarwadi
1. Now, make small rolls from the dough and make small round circles from it. Now add 1 tablespoon of previously made masala mixture and make a roll of it.
2. Now, heat the pan and add oil to it. Then deep fry the bhakarwadi into oil till it turns golden brown in color.
3. Repeat the procedure for all the rolls.
4. Keep it aside to cool then cut the rolls into pieces.
5. Bhakarwadi is ready to serve. You can also store it for 10-15 days in air-tight container.
Preparation Time: 15 Minutes
Cooking Time: 25 Minutes
Servings: 4 Persons