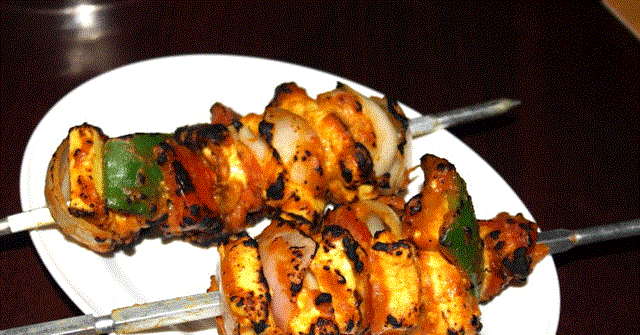 A vegie special and easy to make Paneer recipe. Flaming pan tikkas is best choice for starters or side meals. Try out this delicious recipe and share your experience with us.
Ingredients
– 150 gm Paneer – out into 1″ cubes
– 150 gm small mushrooms
– 6-8 baby corns
– 1 onion – cut into 4 pieces
– 1 capsicum – cut into 1″ pieces
To Marinade
– 4 tablespoon tomato puree
– 2 tablespoon chopped coriander
– 1 tablespoon pomegranate seeds
– 1 tablespoon corn flour
– 1/2 teaspoon red chili powder
– 1 tablespoon thick ginger-garlic paste
– 2 teaspoon tandoori masala
– Salt to taste
How To Make?
1. First, boil 4-5 cups water with 1 teaspoon salt, a pinch of turmeric powder and juice of 1 lemon.
2. Then, Add whole baby corns' mushrooms and boil for 3 minutes. Then, remove from the fire and drain the water.
3. Now, Put the baby corns and mushrooms on a clean kitchen towel and wipe dry.
4. Then, Mix all Ingredients of the marinade in a large bowl.
5. Add Paneer, bay corns, mushrooms, capsicum and onions to the marinade in the bowl and mix well to coat the marinade.
6. Marinate for at least half an hour or till serving time.
7. At serving time, add the vegetables along with the marinade in a large nonstick pan or kadai.
8. Cook for 3-4 minutes till the tomato puree dries.
9. Once it's ready serve hot.
Preparation Time: 10 Minutes
Cooking Time: 50 Minutes
Servings: 4-5 Persons