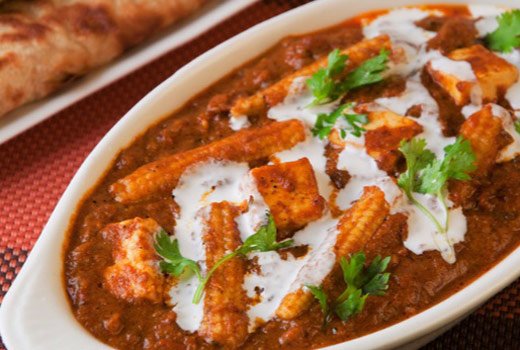 Kadhai Corn Paneer is a traditional Punjabi recipe cooked with baby corns, Paneer and different vegetables in red gravy. Kasoori methi gives delicious taste to the recipe. Here I am sharing a homemade kadhai corn paneer recipe which is healty, easy and tasty.
Ingredients
– 250 gm Paneer
– 10-15 pieces of baby corn
– 2 onions
– 3 capsicum
– 3 tomatoes
– 2 tablespoon oil
– A pinch of Aginomoto
– 1/2 teaspoon turmeric powder
– 2 teaspoon chili powder
– 2 teaspoon coriander powder
– 1 teaspoon Kasoori Methi (Dried Fenugreek Leaves)
– Coriander leaves
– Salt to taste
How To Cook?
1. First, cut the Paneer into 12 mm. thick pieces.
2. Make a thin slices of baby corns.
3. Cut onions, tomatoes and capsicum into small pieces.
4. Now, in a frying pan add 1 tablespoon oil and fry the onion for 5 minutes.
5. Then add Aginomoto, baby corn, capsicum, tomato, turmeric powder, coriander powder, dried Fenugreek Leaves powder (Kasoori methi powder) and salt and cook it for 5-10 minutes.
6. Then add Paneer cubes to the vegetable mixture and again cook it for 5 minute.
7. Then remove the frying pan from the heat and add the Corn Paneer in to Kadhai. Garnish it with coriander leaves and serve the Kadhai Corn Paneer with butter roti, butter naan.
Preparation Time: 15 Minutes
Cooking Time: 30 Minutes