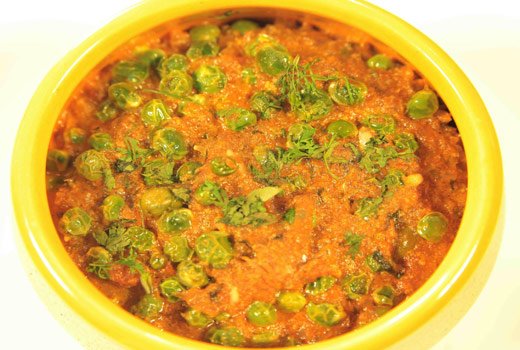 Ingredients:
2 cups green peas, boiled
1 cup khoya or mawa
1 finely chopped tomato (optional)
1/2 teaspoon cumin seeds
2 cloves
1/2 inch cinnamon stick
1 bay leaf
1 teaspoon coriander powder
1/2 teaspoon dry ginger powder
1/2 teaspoon garam masala powder
1/2 teaspoon red chilli powder
1 tablespoon oil
Chopped coriander for garnishing
Salt to taste
Method:
1. Heat oil in a kadhai, add cumin seeds, cloves, cinnamon, bay leaf and allow it to crackle.
2. Add tomatoes and fry until oil separates.
3. Add coriander powder, ginger powder, garam masala powder and red chilli powder.
4. Now add khoya and fry, over low heat, until light pink.
5. Add peas and fry for a minute.
6. Add 1/2 cup water, if necessary, salt and cook for 2-5 minutes.
7. Garnish with coriander and serve hot.
Cooking time: 25-30 minutes