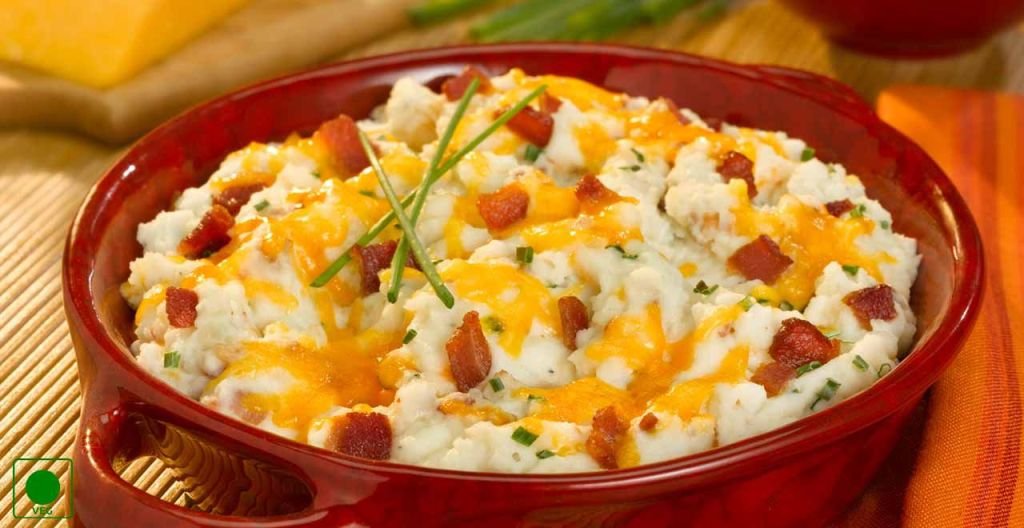 Yummy potatoes recipe that is easy to make in quick manner. It's a perfect recipe for a vegetarians. While making mashed potatoes ensure you have put the potatoes first in a cold water then boil it so it's boiled quickly. Let's learn how to make mashed potatoes recipe.
Ingredients:
– 10 Medium Size Potatoes
– 2 cup milk
– 1 cup cream
– Salt & pepper to taste
– 2 tablespoons butter
How To Cook?
1. Preheat the oven at 200 C.
2. Wash the potatoes well then with using knife prick the potatoes in several parts.
3. Now, place to potatoes on a baking sheet and bake the potatoes for 40-50 minutes.
4. When the potatoes are completely baked cut the potatoes in half lengthwise and keep it aside to cool.
5. When the potatoes are becomes cool and soft to mash, drain them and then push to potato pieces through a ricer.
6. Now, in a sauce pan heat the cream and butter and add the potatoes through a ricer into a bowl.
7. Now, add the milk, salt and pepper to it and mix them well together and heat for 2-3 minutes.
8. once it's ready serve immediately.
Preparation Time: 10 Minutes
Cooking Time: 25 Minutes
Servings: 5 Servings