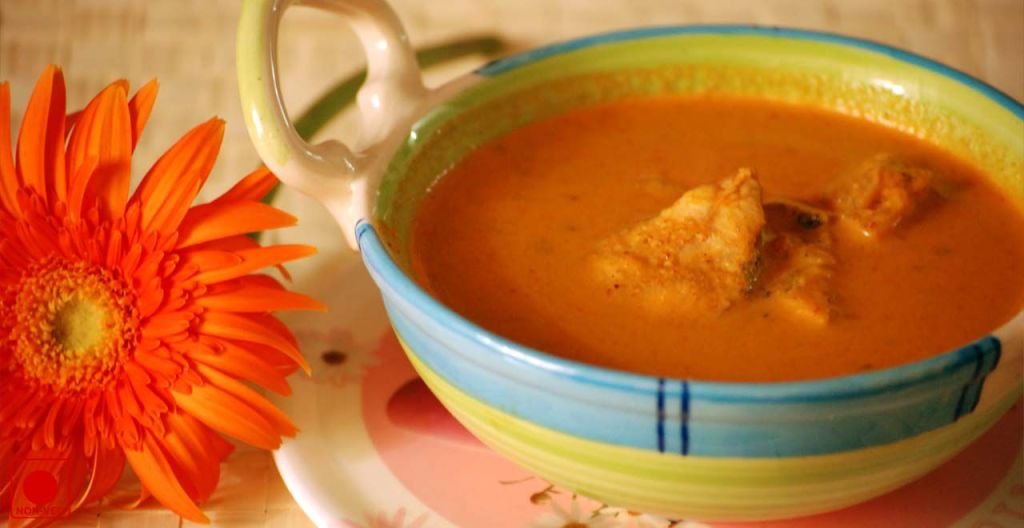 A traditional Goan style fish curry recipe. In this recipe I have used vinegar to marinate the fish, you can also choose lemon instead of vinegar. Goan fish curry is full of Indian spices which makes it tangy and spicy in taste. Fish Curry made with Tuna tastes best however you can use any kind of fish to make the curry. Enjoy this microwave cooked Goan fish curry with plain boiled rice.
Ingredients:
– 500 gm fish steaks
– 2 cups coconut milk
– 2 sliced onions
– 1 chopped tomato
– 2-3 chopped green chilies
– 2 tablespoon oil
– Salt, pepper to taste
– 1 tablespoon vinegar
– 1/4 teaspoon garam masala
– 1/4 teaspoon turmeric powder
How To Cook?
1. Apply salt and vinegar to fish steaks and keep aside to marinate for 30 minutes.
2. In a microwave-safe bowl, add oil, onions, tomatoes, green chilies and microwave at 100% power for 3-4 minute.
3. Add coconut milk, fish and dry masala to taste. Cover and microwave for 6-7 minute till fish tender. Stand for 2-3 minute.
4. Serve hot with plain boiled rice.
Preparation Time: 30 Minutes
Cooking Time: 15 Minutes
Servings: 2 Persons