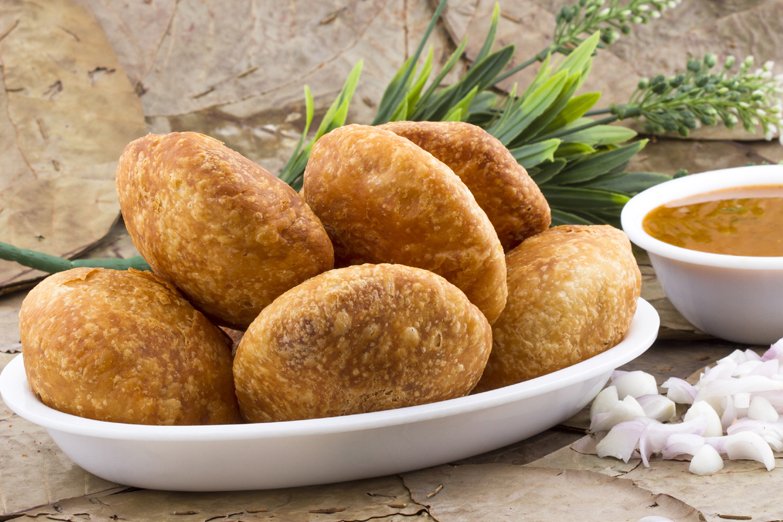 Delicious kachori dish made from flour moong dal and Indian spices
Ingredients:
For Filling
1/2 cup yellow moong dal (green gram)
1/4 cup gram flour
Asafoetida a pinch
2 tablespoon aniseed (saunf)
1/4 teaspoon cumin seeds
1/4 teaspoon garam masala powder
1/4 teaspoon red chilli powder
1/4 teaspoon turmeric powder
1/4 teaspoon amchur (dry mango powder)
1-2 tablespoon vegetable oil
Salt to taste
For Dough
1 cup plain flour (maida)
1/2 cup ghee
1/4 teaspoon baking powder
1/4 teaspoon salt
Lukewarm water for kheading
Method:
1. Wash dal thoroughly and soak in water for 3-4 hours.
2. Grind it coarsely using very little water (if necessary).
3. Heat oil in a pan. Add asafoetida, cumin seeds. When it crackles, add gram flour and saute for a minute.
4. Add the coarsely ground dal and saute over medium heat.
5. Add red chilli powder, garam masala powder, mango powder, turmeric powder, aniseed and cook for some more time.
6. When the mixture starts drying, turn off the gas.
7. For the dough, first sieve the flour, add baking powder, salt and ghee into it. Mix well with the help of your palms.
8. With the help of lukewarm water knead into smooth dough.
9. Cover the dough with wet cloth and keep aside for half an hour. Then knead it once again.
10. Make small balls of equal proportions and roll out the balls to approximately three to four inches in diameter.
11. Put about 2 teaspoons of filling in the center.
12. Seal the edges together using a little water and roll into a round shape (potli shape).
13. Heat oil in a deep kadhai on high. Deep fry the kachories on medium heat until golden brown.
Cooking time: 1 1/2 hours