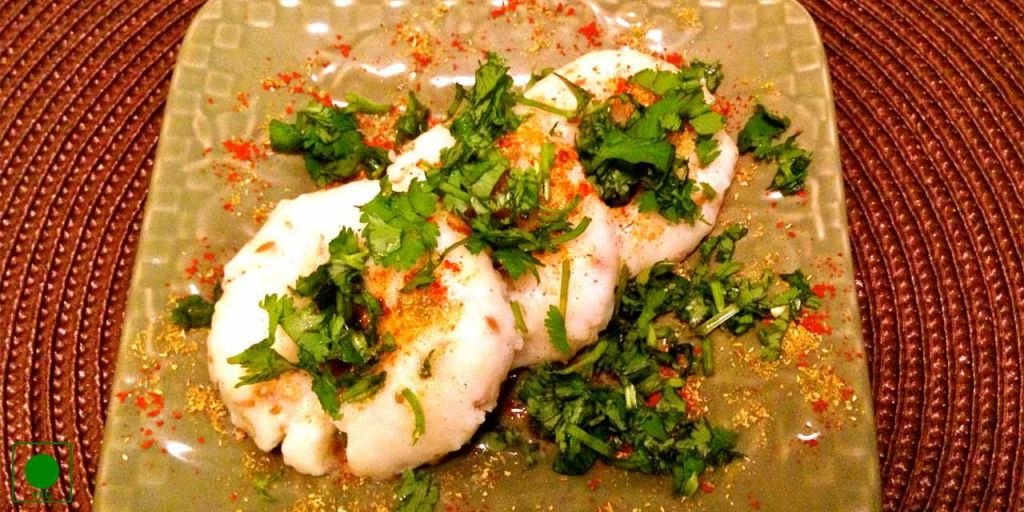 Khichu is one of the interesting and every Gujarati's all time favorite street food recipe. Gujarat is very popular for its mouth-melting and delicious food and also the variations of food. Basically Khichu is a dough from which papad are made. Though this dough is very delicious in taste when it's eaten with oil and chili. You can have Khichu in your breakfast. There are so many variations in khichu but today we are going to learn an authentic khichu which is made from the rice flour. Generally, it is prepared with rice flour and season with methi masala powder. So here is the recipe for Khichu.
Ingredients
– 1 cup rice flour
– 1 tablespoon oil
– 1/2 teaspoon cumin seeds
– 1/2 teaspoon sesame seeds
– 5-6 curry leaves
– 2 finely chopped green chilies
– 1/2 teaspoon ginger paste
– 3 cups water
– 1 tablespoon lime juice
– Salt to taste
– 1 tablespoon peanut oil, for greasing
– Fresh coriander leaves
How To Cook?
1. First of all, heat the oil in a pan then add cumin seed and sesame seeds. Let them splutter, after few seconds add green chilies, ginger paste and curry leaves and saute it for few seconds.
2. Then add water, lime juice and salt to it and let it boil.
3. When the water start boiling, gradually pour the rice flour in boiling water, stirring continuously with the spoon or wooden spatula.
4. Cook the rice flour for a minute then switch of the flame and transfer it in plate and grease it with peanut oil.
5. Serve this khichu hot with methi masala.
Additional Tip
– You can also use buttermilk instead of using water.
Preparation Time: 5 minutes
Cooking Time: 10 minutes