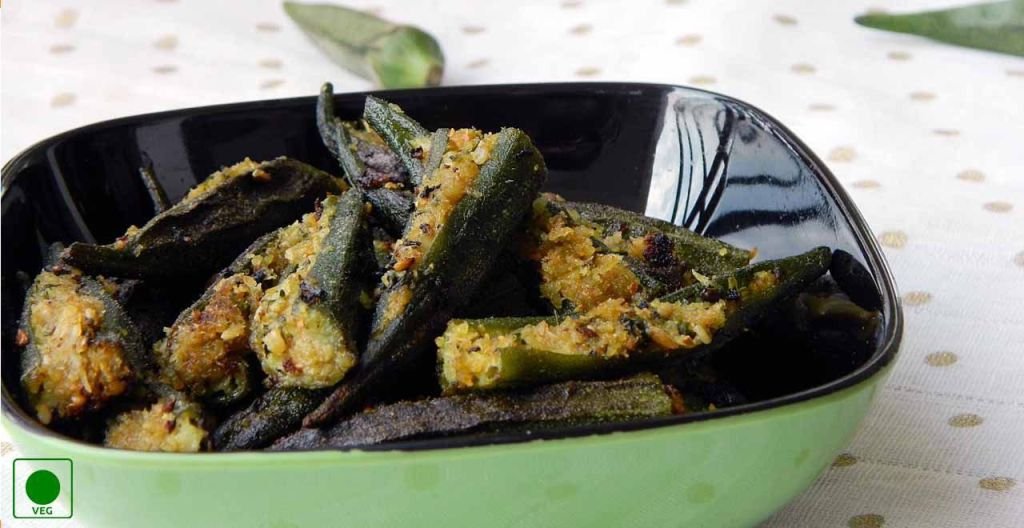 Sambhariya Bhindi is Gujarati style stuffed bhindi/okra recipe which is cooked in yogurt. While making sambhariya bhindi, ensure you have choose small size bhindi that makes it easy for you to stuff the Guajarati spices. You can enjoy yogurt bhindi with roti. Here is the delicious sambhariya bhindi recipe..
Ingredients:
250 gm Bhindi (okra), split lengthwise
Vegetable oil for frying
2 tablespoon yogurt
Salt to taste
For Filling
2 tablespoon fresh grated coconut
1/2 teaspoon green chili paste
1/2 cup green coriander
1/2 teaspoon cumin coriander powder
1/4 teaspoon ginger paste
How To Cook?
1. In a bowl, mix grated coconut, green chili paste, green coriander, cumin coriander powder and ginger paste and mix all the Ingredients together.
2. Now, stuff each okra with this filling.
3. Heat the oil in a frying pan till it smokes; LOWER the flame to MEDIUM, deep-fry the stuffed okra until it becomes soft.
4. Remove okra with a slotted spoon, drain the excess oil on absorbent kitchen towels.
5. In a separate pan, add the yogurt and fried okra; cook on a LOW flame for 3-4 minutes.
6. Don't bring the mixture to the boil or else the yogurt will curdle. Add salt to taste and mix well.
7. Serve hot sambhariya bhindi with phulka roti.
Preparation Time: 10 Minutes
Cooking Time: 15 Minutes
Servings: 2 Persons