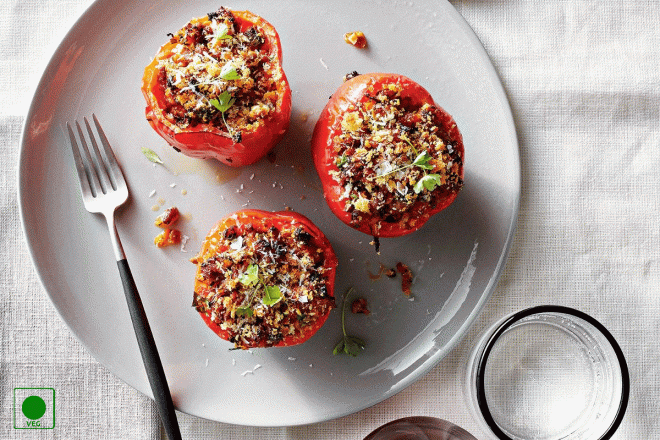 In a Stuffed capsicum or bharwa shima mirch recipe, Capsicums are stuffed with green peas and potatoes dotted with butter. You can use different kind of stuffing's to make this recipe. You can make this recipe as a main course or can also be served as a side dish. Enjoy this hot stuffed capsicum dish with a pulse and steamed rice. You can also garnish the capsicums with tomato sauce and bhujia.
Ingredients
– 6 capsicums
– 2 tablespoon butter
– 1 cup grated cheese
For Stuffing
– 1 tablespoon butter
– 1 potatoes, boiled and mashed
– 1 cup green peas, shelled, boiled
– 1 Cup paneer, grated
– 1 tablespoon green chili paste
– 2 tablespoon cashew nuts, broken to pieces
– 2 tablespoon coriander leaves, chopped
– Juice of 1/2 lemon
– Salt to taste
– 1/2 teaspoon garam masala
How To Cook?
1. In a bowl, add butter, potatoes, green peas, paneer, green chili paste, cashew nuts, coriander leaves, lemon juice, salt and garam masala and mix them well.
2. Divide the mixture into six portions.
3. Cut a thin slice from the top of each capsicum and scoop out the seeds.
4. Stuff the capsicum with the filling. Dot the capsicums with 1 teaspoon butter on each.
5. Bake the capsicum in a pre-heated microwave for 15 minutes at 180C.
6. Place grated cheese on the capsicum and serve it.
Preparation Time: 15 Minutes
Cooking Time: 10 Minutes
Servings: 4 Persons