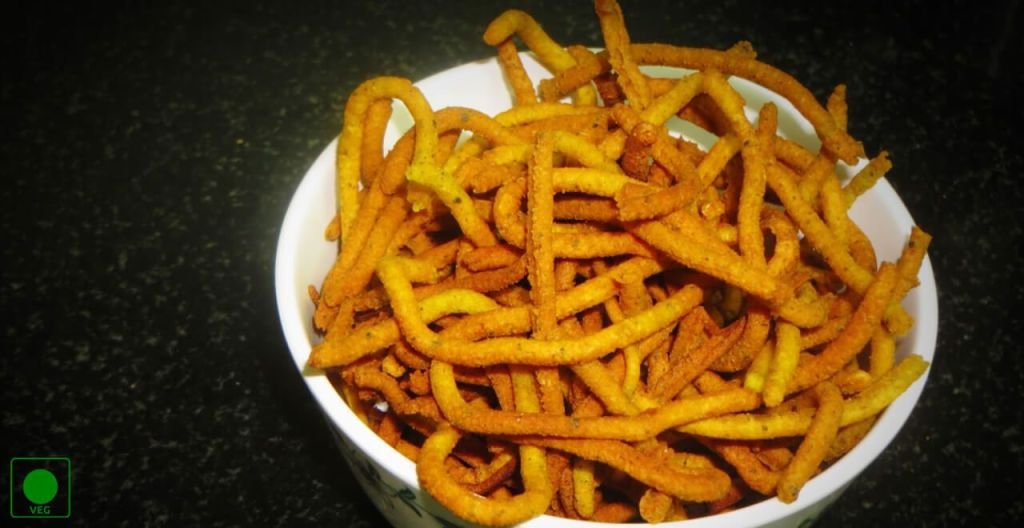 Tikhi sev is wonderful Diwali celebration snack which is perfect savoury namkeen. It is also known as masala sev and kara sev. This namkeen is a standalone snack as well as use as a common ingredient for all kinds of chaat. This less time consuming savory snack is quite easy to make. Also it is a great tea-time snack. These thin and fried gram flour noodles are spiced with red chili powder and other spices too. Take a look for other similar recipes like Gathiya.
Ingredients:
– 1 cup gram flour
– 1 teaspoon red chili powder
– 1/2 teaspoon carom seeds
– Pinch of cooking soda
– 3 tablespoons oil
– 4 tablespoons water as required
– Salt to taste
– Oil for deep fry
How To Cook?
1. Mix all the dry Ingredients and oil. Add water and knead to a soft dough.
2. Fill little portion of dough in a dough extruder.
3. Heat oil in a deep frying pan over high heat. Once oil is heated and reduce the flame.
4. Now, press the dough through the extruder, in circular movements and let the sev fall as one piece directly in the hot oil.
5. Over MEDIUM flame, fry this sev until light golden. Drain them and put them on absorbent paper.
6. Repeat this whole process for remaining dough.
7. Let them cool and store in an airtight container.
Preparation Time: 10 Minutes
Cooking Time: 30 Minutes
Servings: 6-8 Persons