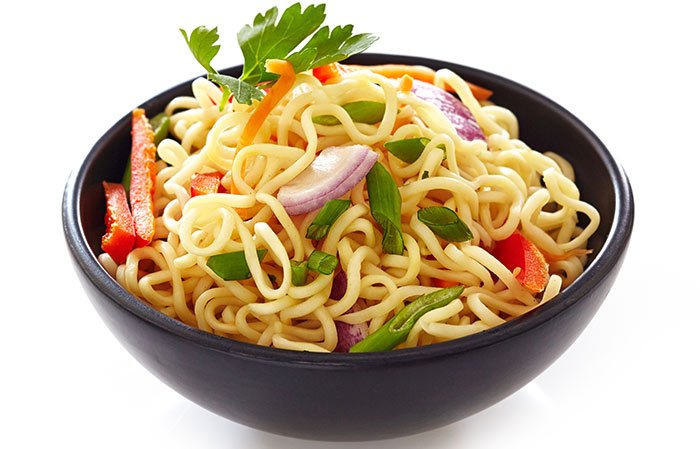 Famous flat noodles made with tossed vegetables
Ingredients:
2 cups boiled flat (hakka) noodles
1 cup chopped spring onion
1 cup sliced capsicum
1/2 cup grated carrots
1/4 cup bean sprouts
1/4 cup sliced tofu (optional)
1/4 cup sliced celery stems
3 dried red chilies (to taste)
2 peeled whole garlic cloves
1 teaspoon green chilies cut at an angle
1 tablespoon white vinegar
Pinch ajinomotto (optional)
1 teaspoon white pepper powder
2 tablespoon oil
1 tablespoon chopped spring onion for garnishing
Salt to taste
Method:
1. Boil dried red chilies and whole garlic cloves in 1 cup water for 5 minutes.
2. Drain and grind to a smooth paste.
3. Heat oil in a large wok or pan, add chilli-garlic paste and saute for a minute.
4. Add green chilies, spring onion, capsicum, carrots, sprouts, celery and tofu and stir fry for 2 minutes over high heat.
5. Add ajinomotto, required amount of salt and toss the vegetables for a few seconds. The vegetables should be crisp.
6. Add noodles, vinegar and season with pepper powder and toss well for 3-5 minutes over high heat.
7. Garnish with a spring onion on top.
8. Serve hot.