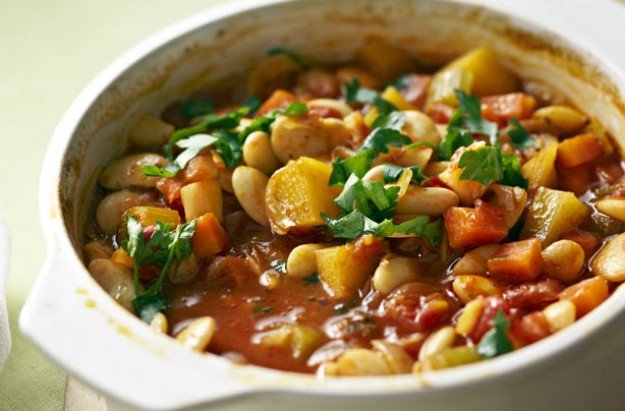 Healthy and delicious vegetable stew in vegetable stock
Ingredients:
1 cup sliced celery
1 cup diced carrots (optional)
1 cup diced potatoes
1 cup sliced green beans or french beans
1 cup chopped tomatoes
1 cup vegetable stock (optional)
2 sliced onions
1-2 chopped garlic cloves
1 inch ginger
1 bay leaf
1 tsp sugar
Red chilli flakes [Optional]
Oil
Salt and pepper to taste
Method:
1. Heat oil in a large saucepan and gently fry the bay leaf and onions until transparent.
2. Add the garlic, ginger, carrots, potatoes, beans, celery and cook for a few minutes.
3. Add the stock, tomato puree, sugar, chilli flakes, salt and pepper.
4. Stir well and bring to boil.
5. Reduce the heat to low, cover the pan and let the stew simmer for 15-20 minutes or until the vegetables are cooked.
6. Serve hot.
Cooking time: 25-30 minutes