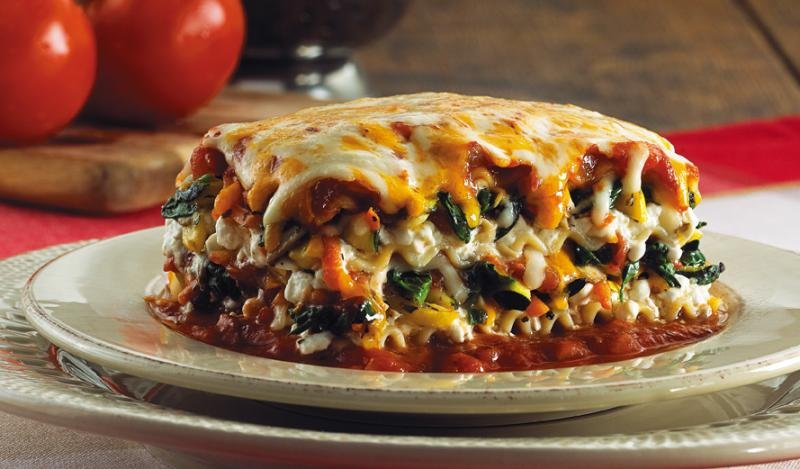 Delicious baked dish with vegetables in a cheesy flavour
Ingredients:
1 large firm eggplant (brinjal)
2 red or yellow peppers
1 ripe plum tomato
1 large onion, sliced
2 spring onions, sliced
1 fresh and firm zucchini (tori in Hindi), sliced
1/2 cup mushrooms, sliced
6 tablespoon tomato sauce
1/4 cup olive oil
Salt and pepper to taste
1 cup grated mozzarella cheese for assembling
1 cup grated parmesan cheese for assembling
1 cup grated provolone cheese for assembling
Method:
For Preparing Vegetables
1. Grease eggplant (brinjal) whole, pepper and tomato with olive oil and grill them in an oven or over medium heat until light brown and tender. Keep aside to cool.
2. Slice eggplant, pepper and tomatoes and keep aside.
3. In a large frying pan, add two tablespoon olive oil and fry onion rings until light golden brown, remove and keep aside.
4. In the same oil fry zucchini (tori) until light brown, remove and keep aside.
5. Now fry spring onions and mushrooms until transparent and tender, remove and keep aside.
6. Sprinkle salt and pepper on all vegetables.
For Assembling
7. Preheat oven to 375 °F (unless preparing in advance).
8. Grease the bottom of a large and deep bake dish with butter.
9. Mix the three cheeses together. You can also use any of the two cheeses as well.
10. Spread one tablespoon tomato sauce along the bottom of the dish.
11. Spread a layer of the baked brinjal. Spread some tomato sauce on top of this layer and sprinkle cheese mixture to cover the layer.
12. Now spread the peppers in a layer. Spread tomato sauce on top and sprinkle cheese mixture to cover.
13. Continue in this manner until all the layers are complete, using a different vegetable for each layer.
14. On top spread little tomato sauce and the remaining cheese mixture.
15. Bake lasagne for about 35 to 40 minutes or until bubbly and cheese melts and turns brown on top.
16. Serve hot.