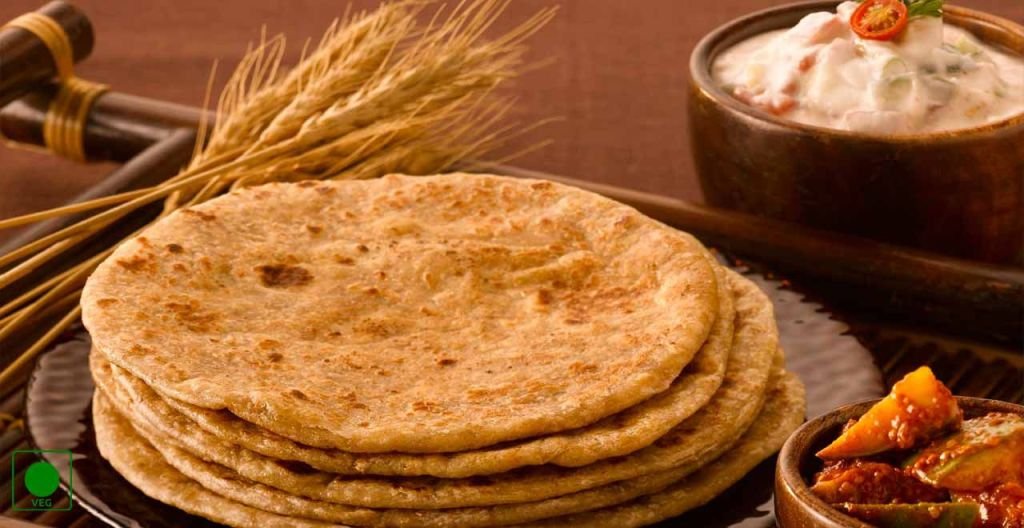 However there are various recipes of paratha so one of the paratha recipes I am going to share and that is wheat paratha. This is the healthy version of paratha and it is very popular staple food of north India. It is also known as Indian flat-bread. It is very crispy and tasty yet healthy. It can be served with aloo ki sabji also you can enjoy it with gravy or curd.
Ingredients
– 250 gm whole wheat flour
– Salt to taste
– 2 tablespoons pure ghee
– 3/4 cup milk for dough
– Pure ghee for frying
How To Make?
1. Sieve the flour, add ghee and salt to it and mix it well.
2. Now, knead it into dough by adding milk to form the dough.
3. When the dough is kneaded cover it with a damp cloth and keep aside for half an hour.
4. After half an hour take dough and make equal size balls.
5. Now, roll out each individual ball and apply ghee over it and fold into half and brush again with ghee and fold it into a triangle.
6. Then roll out again into 1/2″thickness and roast on a hot tawa by applying ghee on each side till well cooked from both sides.
7. Serve this fantastic wheat paratha with sabji or dal.
Preparation Time: 1 hour
Cooking Time: 20 minutes
Servings: 2-3 Persons