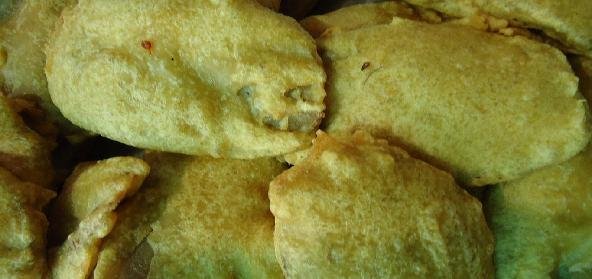 Ingredients:
• 3 medium sized Potatoes
• oil for deep frying
• salt to taste
• For the Batter:
• 2 cups – gram flour
• 1.5 tsp – Red Chilli powder
• enough water for making the batter
• salt to taste
• 2 tbsp – oil
Method:
Peel the potatoes and cut them into thin round slices.
Soak them in salted water. In a bowl mix gram flour, red chilli powder, oil and salt to taste.
Use sufficient water to make a little thick batter but of dropping consistency.
Keep oil to heat for deep frying the bhajiyas.
Squeeze the water from the potato slices.
When the oil reaches a smoking point, dip each potato slice into the gram flour batter and slip it into the hot oil.
Fry for two minutes on a high flame and then simmer the gas.
Fry till the bhajiyas are light golden in colour and done.
Serve with bread slices and tomato ketchup or any pickle.
Recipe courtesy of Anita Raheja