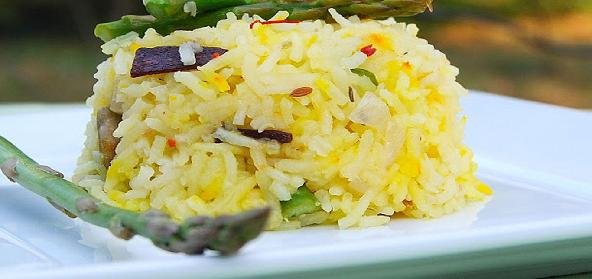 Ingredients:
• For the rice:
• 1.5 cups – basmati rice, soaked in cold water for half an hour, then drained
• 2.5 cups – water
• 2 – dry Bay Leaves
• 4 – Cloves
• 4 pods – green Cardamom
• 2 – 1-inch sticks of Cinnamon
• 2 – generous pinches of Saffron
• Salt to taste
• For the sauce:
• 1 pound – Asparagus, cut lengthwise into 1-inch pieces (trim the Asparagus first by removing the hard ends)
• 1 tbsp – Lemon juice
• 1 tsp – vegetable oil (olive or canola will do)
• 1 tsp – Cumin seeds
• 1 tsp – Black cumin seeds (double the regular cumin if you cannot find these)
• 1 – medium onion, finely chopped
• 1 tsp – minced Garlic
• 1 tsp – grated Ginger
• 1 tsp – red pepper flakes
• 1/2 cup – vegetable stock (use water if you have to, but the stock tastes much better)
• Salt to taste
Method:
Place the water in a saucepan with a tight-fitting lid.
Add all the spices, including saffron, and salt.
Bring the water to a boil, then add the drained rice.
When the water begins to boil, slap on the lid, turn the heat to low and let the rice steam for 15 minutes. Turn off heat.
Heat the oil in a saucepan large enough to hold the sauce and the rice.
Add the cumin and black cumin. When they sputter, add the onions and some salt. Saute until the onions start to soften, then add the garlic and ginger and red pepper flakes. Saute for another minute.
Add the asparagus stalks and stir well. Add the lemon juice.
Add the stock and when it starts to simmer, place a lid on the saucepan and let the asparagus cook for about 5-7 minutes on medium-low heat until it's cooked but still firm with a good bite to it. You don't want soggy asparagus in this dish.
Add the cooked rice to the asparagus and stir everything together very gently so as to not break the grains of rice. It is best to do this with a fork – use a "fluffing" motion with the rice instead of a stirring motion.