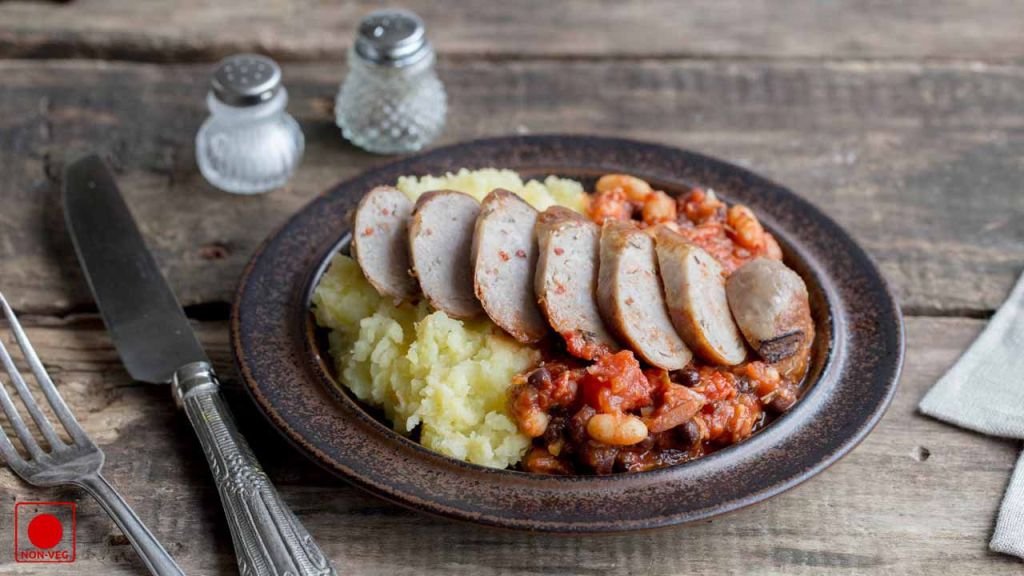 Baked bean chaat with sausages is an Indo-Serbian cuisine. In Serbian food, dishes that contain meat it is always served as main course. But this dish has Indian touch so it can be enjoy as chaat at any time you want. To make this dish you need only few Ingredients like baked beans, chicken sausages, onion, garlic paste and some spices. Let us see, how to make this yummy recipe?
Ingredients
– 12 mini chicken sausages
– 1 tablespoon oil
– 400 gm baked beans
– 1/2 cup chopped onions
– 1 teaspoon garlic paste
– 1 teaspoon garam masala
– 1 teaspoon red chilli powder
– 1 tablespoon Worcestershire sauce
– 3 tablespoons cheese spread
How To Cook?
1. First, defrost sausages and fry them in 1 tablespoon of oil.
2. Now, pour the baked beans into a medium-sized pan.
3. Then add chopped onions, garlic paste, garam masala and red chilli powder and cook it for 2-3 minutes over low heat.
4. Now, add sausages and Worcestershire sauce and heat through.
5. After that stir in the cheese spread.
6. Then transfer the content of the pan into a bowl.
7. Mix all the Ingredients for the topping in another bowl.
8. Sprinkle the topping over the sausages and beans while still hot.
9. Serve this at once.
Preparation Time: 15 Minutes
Cooking Time: 20-25 Minutes