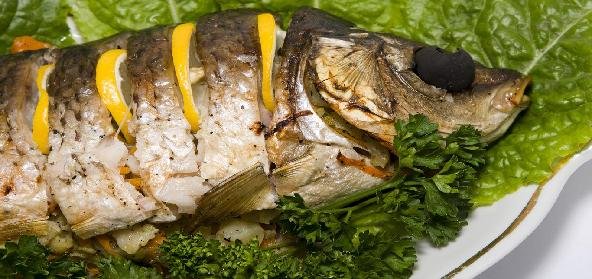 Ingredients:
• 2 medium-sized Pomfrets
• 3 whole Garlic pods
• 1 Onion crushed
• 2 tsp Olive oil
• 2 tbsp flour
• 1 cup stock (use two soup cubes)
• Dry white wine
• A pinch of pepper
• Salt to taste
Method:
Without separating the cloves of garlic, remove the external skin. Wrap them in separate foils and bake at 400 degrees F for half an hour.
Cool a bit and then separate the cloves and squeeze to extract the pulp.
Discard the skins and grind the pulp to a paste, and keep it aside.
Saute the onions well.
Put on a very low heat and gradually keep adding quantities of stock, wine and flour and blending them thoroughly.
Taking care not to let it burn, bring it to a boil, and then add the garlic paste and salt.
Cook till thickened to a good consistency.
Cool and blend in an electric blender till smooth.
Cut the fillet from the sides of the fish and baste well with the sauce, pouring a little extra over it.
Place in oven and bake till cooked.
Serve the excess sauce separately for anyone who wants an extra helping.
Recipe courtesy of Malini Bisen