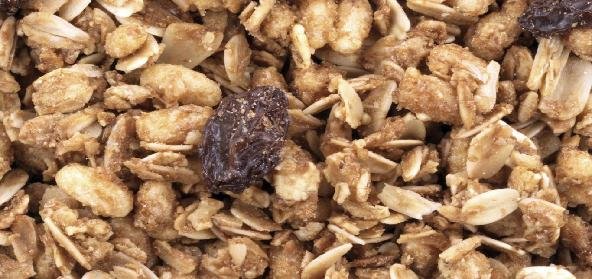 Ingredients:
• Section 1:
• 1/4 cup Margarine or Oil
• A few Curry leaves
• 1/2 cup tightly packed Brown sugar
• 1/4 tsp Red Chilli powder
• 1/8 tsp Ginger paste
• Pinch of Hing
• 1/2 tsp Salt
• Section 2:
• 3 cups rolled oats (not instant)
• 1 cup Rice crispies
• 1/4 cup roasted skinless Peanuts (optional)
• 1/4 cup sweetened desiccated Coconut (thick strips)
• 1/4 cup finely chopped hard Dates or whole Raisins or chopped Apricots
• 1/8 cup hulled Sunflower seeds
Method:
Bake the rolled oats in oven for 10 minutes at 350 degrees Fahrenheit.
When cool, mix the oats, and other ingredients in section 2 in a large mixing bowl.
Separately in the oil, on low heat, fry the curry leaves, ginger, chilli powder and hing.
Then add brown sugar and salt and stir over heat till it melts and tiny bubbles start to appear. Turn off heat.
Very carefully pour the hot mixture in a thin stream over the dry ingredients in the bowl, while simultaneously stirring.
If the mixture is too wet and you want a drier chewra, quickly add more rice crispies and stir.
Place the mixture on a greased baking tray and put into the warm oven for 10 minutes to make it crisp.
Allow to cool to room temperature before putting away in air tight container.
Recipe courtesy of Cathy