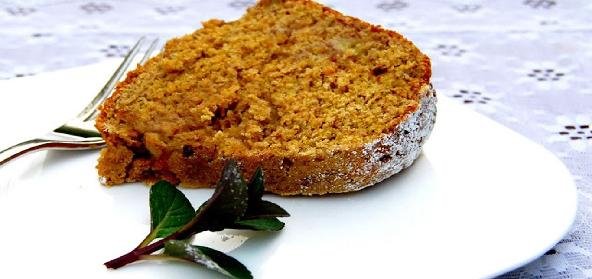 Ingredients:
• 3 cups – whole Wheat pastry flour
• 1 cup – Wheat germ
• 6 – very ripe bananas, mashed
• 2 tsp – baking soda
• 1/4 tsp – salt
• 3/4 cup – Sugar (use turbinado or vegan cane Sugar)
• 1/2 cup – maple syrup
• 3/4 cup – Almond Milk
• 1 tbsp – vanilla extract
• 1 cup – walnuts, toasted lightly, then chopped
Method:
Mix the flour, wheat germ, baking soda and salt in a bowl.
In another, larger bowl, whisk together the sugar, maple syrup, almond milk, mashed bananas and vanilla extract until well-mixed.
Add the flour in three batches, stirring in the flour thoroughly after each addition.
Pour into a bundt pan sprayed with oil.
This is a thick batter, so smooth down the top before putting into the oven.
Bake in a preheated 350-degree oven for 45 minutes or until a toothpick inserted near the cake's center comes out clean.
Cool thoroughly, unmold, dust with some confectioner's sugar if you like, then slice. Serve with some vegan whipped cream.
Recipe courtesy of Vaishaly