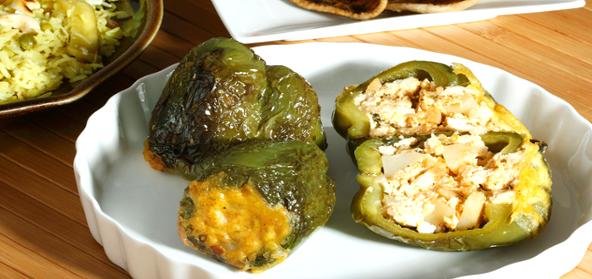 Ingredients:
• 250 g – small, evenly sized Capsicums
• 2 tbsp – besan (gram flour)
• 1 medium onion, chopped fine
• 1.5 tsp – chopped Coriander leaves
• 3 to 4 tbsp – oil
• diced ginger, Garlic (to taste)
• 1 tsp – Turmeric powder
• 1 tsp – Cumin seed powder
• 1 tsp – Aamchur
• 1 1/2 tsp – green chillies, chopped fine
• salt to taste
Method:
For filling:
In a wok, heat 1 tbsp of oil. Roast the besan in it.
Then add the turmeric, chillies, cumin seed powder, amchur, chopped coriander leaves and salt.
Mix well. Do not add any water to this mixture.
For capsicum:
Wash and dry the peppers.
Cut the cap off each and remove the seeds.
Stuff them with the filling and replace the tops.
For cooking:
Heat the oil in a non-stick, flat bottomed pan and saute the onion, ginger and garlic.
Place the stuffed capsicum in so they all stand evenly in the pan, open end up.
Cook on a low flame, covered, with a hint of water, till done (around 20 minutes).
Serve with puris or polis along with a gravy dish or with rice and yogurt.
Recipe courtesy of Anita Raheja