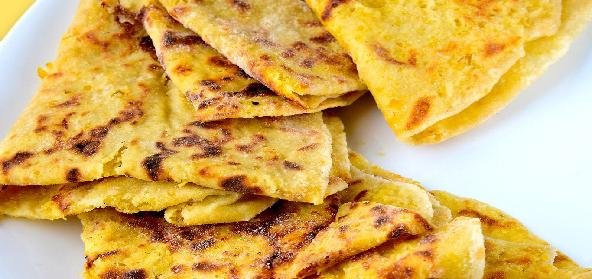 Ingredients:
• Bengal Gram dal – 2 cups
• Sugar – 2 cups
• Maida – 1.5 cups
• Gingili Oil – 1/2 cup
• Cardamoms – 8
• Ghee for frying
Method:
Boil the gram with plenty of water. When nicely cooked, strain.
Again add water, boil and drain. Add sugar and cardamom to the cooked gram and keep it on low heat till the mixture becomes semi-solid. Stir constantly.
Remove from fire and grind to a fine paste.
Add a pinch of kesari powder to the flour, and with a little water, make into a dough.
Pour gingili oil into the dough and knead until it becomes very soft.
Make equal number of balls with the dough and the gram mixture.
Take a ball of gram, cover it with a dough ball, place on a floured board and roll out as thinly as possible.
Apply a little ghee on griddle and roast the boli on it.
Recipe courtesy of Rajee