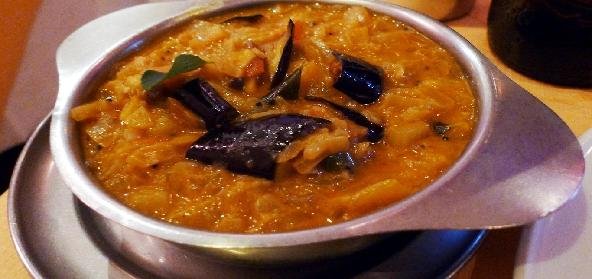 Ingredients:
• Green Brinjal – 4
• Green chillies – 4
• Sesame seeds – 1 tsp
• Coriander seeds – 1 tsp
• Cumin – 1 tsp
• Salt to taste
• Oil – 1 tbsp
• Mustard Seeds and curry leaves, a few
Method:
Wash and chop brinjals into medium sized pieces.
Heat oil in a kadai and put the green chillies and fry for a minute.
Also fry coriander seeds, sesame seeds and cumin seeds.
Grind to a paste when it cools and keep aside.
Now in the remaining oil, fry the brinjal pieces till they are soft.
Grind this with some salt and the masala paste.
Heat little oil in a pan and add mustard seeds and after it splutters add the curry leaves and pour over the chutney.
Recipe courtesy of Gladys