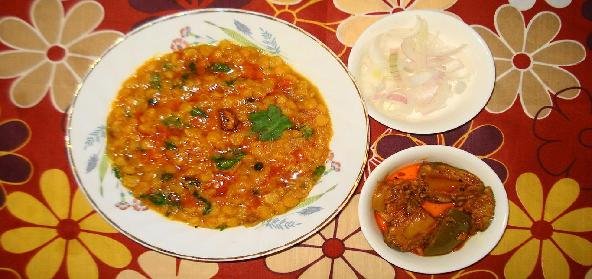 Ingredients:
• 1 cup – Chana dal
• 1 cup – Moong dal
• 4 – Red Chillies
• 2 – Green chillies
• 1 – Onion
• 1/2 tbsp – Urad Dal
• 1/4 tsp – Mustard Seeds
• 1/4 tsp – Cumin seeds
• 3 tbsp – cooking Oil
• a few Khaddi Pattha leaves
• Salt to taste
Method:
Soak the chana and moong dal in water for an hour. Grind them along with the red chillies into a nice paste. Add salt to this paste.
Finely chop the onion and green chillies.
Boil the cooking oil in a pan.
Fry urad dal till it turns golden brown.
Add the mustard seeds and cumin seeds and fry for a few more seconds.
Add the onion and green chilli chops and khaddi pattha leaves to this.
When the onions turn golden brown, add the chana and moong dal paste to this mix and fry on a low heat for about 15 minutes, till the paste becomes dry.
Recipe courtesy of Charan