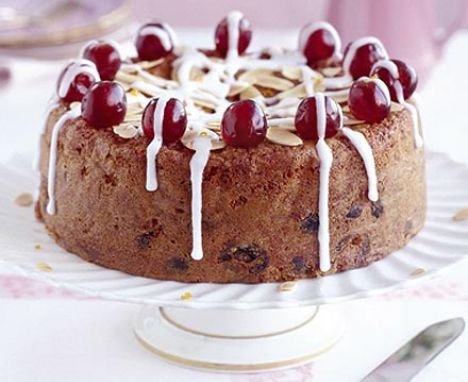 A perfect cheery and almond cake for the Christmas celebration. Cherry and almond tastes best together. Cheery and almond cake is perfect with morning tea. A juicy cherry adds great taste to cake. Cake becomes moist and full of flavor.
Ingredients
– 200 gm flour (Maida) and 1 tablespoon extra
– 200 gm soft butter and extra for greasing
– 4 eggs (beaten)
– 1 tablespoon baking powder
– 180 gm castor sugar
– 2 tablespoon orange juice
– 1/2 tablespoon almond essence
– 1 cup glace cherries (halved)
For Decoration
– 100 gm icing sugar (sifted)
– 3 tablespoon flaked almonds
– 10 to 12 fresh cherries
How to Cook?
1. Preheat the oven to 180c at convection. Grease a cake dish with butter and keep aside.
2. Beat the butter and sugar together until fluffy and light.
3. Stir flour and baking powder together and beat the eggs.
4. Now add the beaten egg and flour to the sugar-butter mixture, also adding the orange juice.
5. Mix evenly till thick and creamy. Toss the glaceed cherries in the extra 1 tablespoon flour and fold into the batter. All almond essence
6. Spoon into the prepared cake dish and bake at 180c for 40 minutes. When ready, leave to cook for 10 minute and then remove on to a cooling rack.
For Decoration
– Mix icing sugar with 1 tablespoon of water.
– Spread the flaked almonds and decorate with fresh cherries over the top of the cake.
– Sprinkle the icing sugar over the cake to decorate.
Preparation Time: 10 Minutes
Cooking Time: 1 hour 15 Minutes