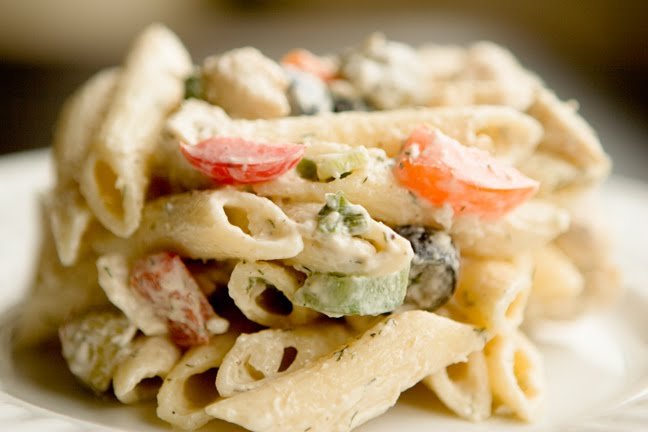 Easy and quick chicken penne pasta salad recipe. It can be served cold or hot. Make this crunchy and tasty salad with the given recipe guidelines.
Ingredients
– No. 15 Chicken
– 20 gm butter
– 1 packet picador cheese (soft capsicum-flavored cheese)
– 1 cup chicken stock
– 1/2 chopped red capsicum
– 1/2 chopped yellow capsicum
– 1 stick celery, chopped
– 2 cups penne pasta
– 4 cups hot tap water
– 1 tablespoon fresh chives
How To Cook?
1. Brush chicken with butter melted for 20 seconds on HIGH flame.
2. Cook Chicken for 30 to 35 minutes on MEDIUM HIGH flame turning over halfway through cooking.
3. Cool and then remove chicken flesh from the bone.
4. Cook pasta in a large bowl for 15 to 16 minutes on HIGH flame. Stand for 5 minutes. Stir and stain it. Set aside it to cool.
5. Melt cheese by combining with chicken stock in a bowl and cooking on HIGH flame for 2 minutes
6. Combine all Ingredients and mix well with chicken, pasta and sauce.
Preparation Time: 20 Minutes
Cooking Time: 35 Minutes
Servings: 6 Person