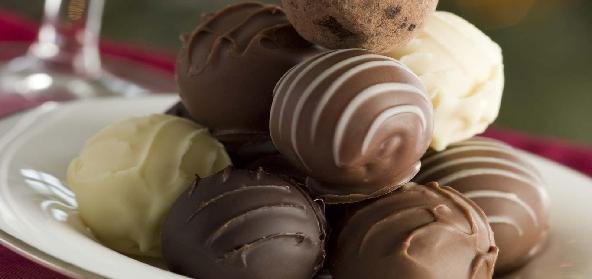 Ingredients:
• 175g- digestive biscuit crumbs (or other vegan biscuits)
• 50g chopped Raisins
• 50g roasted hazelnuts, chopped
• 50g ground Almonds
• 75g blackcurrant jam
• 1 Orange zest, very finely chopped
• Dark rum or brandy – to taste
• 150g plain chocolate
• To decorate- glace Cherries
Method:
Mix the biscuit crumbs, raisins, nuts, jam, and orange zest together in a bowl.
Add sufficient rum or brandy to make a fairly stiff mixture.
Form the mixture into walnut-sized balls.
Melt the chocolate in a bowl over a pan of hot water.
Coat each truffle in the melted chocolate individually.
Decorate with bits of glaced cherries and keep aside to set on a foil-covered tray.
Recipe courtesy of Riji R