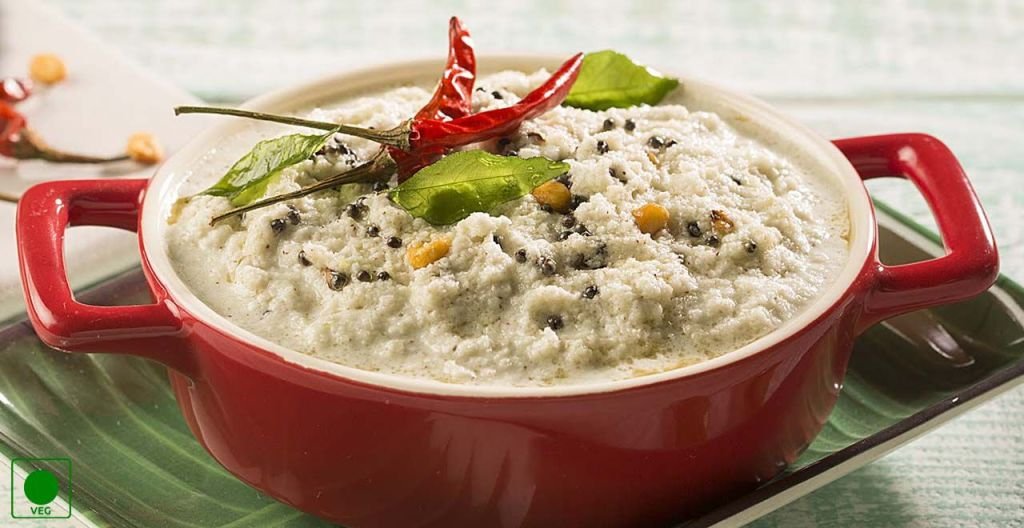 A South Indian food is incomplete without coconut chutney. Coconut chutney adds more taste in the South Indian dish. To make coconut chutney is easy and you can instantly make it whenever you are cooking a South Indian food. So let's quickly see the recipe of coconut chutney.
Ingredients
– 1 cup scraped fresh coconut
– 1 tablespoon Bengal gram(chana dal)
– 1 tablespoon curd
– 1 teaspoon grated ginger
– 1 teaspoon tamarind paste
– 2 chopped green chillies
– Salt to taste
For Tempering
– 1 tablespoon oil
– 1/2 teaspoon split black gram skinless
– 1/4 teaspoon mustard seeds
– 1/2 teaspoon cumin seeds
– 1/4 teaspoon of asafoetida
– Few curry leaves
– 2 dried red chillies
How To Cook?
1. Add coconut scraped and roasted Bengal gram into the blender and blend it well.
2. Now, add ginger, tamarind paste and green chillies along with salt and blend it again.
3. Then add little water and curd to it and blend it to make a smooth paste.
For Tempering
1. In a pan, heat the oil and black gram and saute it till light brown.
2. Then add mustard seeds, cumin seeds, asafoetida, curry leaves and dried red chillies then saut? it for a while.
3. Now, remove the pan from the heat and pour this temper over ground coconut paste.
4. Serve this tempting coconut chutney with idli or dosa.
Preparation Time: 10 minutes
Cooking Time: 5 minutes