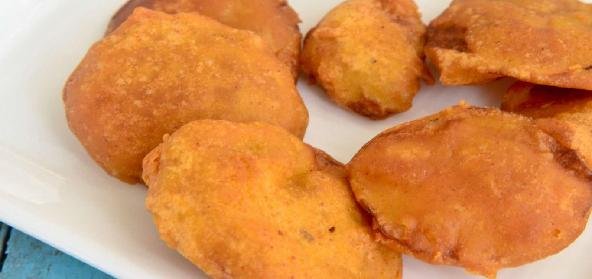 Ingredients:
• 2 – fresh soft Maize (grated)
• 1 tbsp – Gram Flour (besan)
• 1 tbsp – Rava
• 1 cup – boiled Peas
• 1 tsp – Ginger paste or grated Ginger
• 2 – Green chillies, finely chopped
• 2 tsp – finely chopped coriander
• 1 – Lime, juiced
• Chaat Masala or Garam Masala – to taste
• For frying:
• Refined vegetable oil
• 2 tbsp – Rava
• 1 tsp – roasted sesame seeds
Method:
Take grated maize (this will be like a paste with some juice. Take a thick portion of this and remove all the juice by squeezing it with a spoon).
Put the thick portion of grated maze in a big bowl.
Add gram flour, rava, ginger paste, boiled and drained peas, chopped chillies, coriander, salt, lime juice, and chat masala or garam masala.
Mix it well and keep this mixture in refrigerator for 1/2 hour to set.
Remove the mixture from the fridge.
Heat the oil in frying pan.
Take a plate and spread a thick layer of rava and sesame seeds over it.
Make flat oval shapes of the batter and roll it in the rava-sesame mixture. (Try to wrap the rava and sesame seeds all over the cutlet).
Fry it carefully.
Let the cutlets become brown on a slow flame.
Remove and drain excess oil.
Recipe courtesy of Sonal