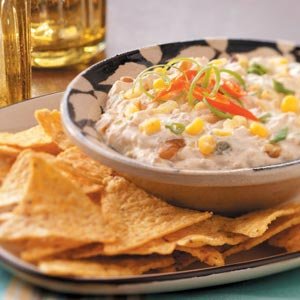 A spicy corn spread made in milk and butter
Ingredients:
3 corn cobs
2 chopped green chilies
1 chopped garlic
1 cup warm milk
2 tablespoon butter
1/2 teaspoon black pepper powder
Salt to taste
Method:
1. Cut the corn from the cobs and grind to a smooth paste using as little water as possible.
2. Heat butter in a pan, add garlic, green chilies and saute for a minute.
3. Add the corn paste and cook for about 3-4 minutes.
4. Now pour in the milk and keep stirring until the mixture is of a thick consistency and cooked well, for approximately 5-8 minutes.
5. Season with salt and black pepper powder.
6. Spread evenly on toasted bread slices and serve hot.
Cooking time: 15 minutes