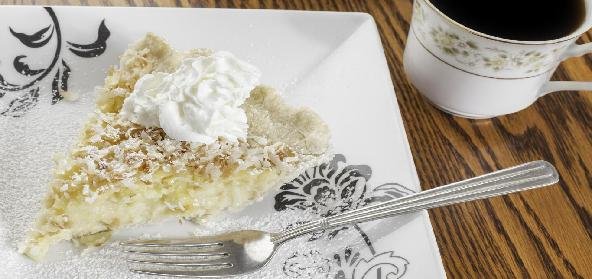 Ingredients:
• For the pie crust: 1 cup – plain flour
• 1/3 cup – margarine
• 1/2 tsp – salt
• 1.5-2 tbsp – cold water
• For the filling: 1/3 cup – plain flour
• 2 – Egg yolks, beaten
• 5-6 drops – vanilla essence
• a dash of salt
• 2 tbsp – Butter
• 1/2 cup – Sugar
• 2 cups – hot Milk
• 1 cup – grated Coconut
• For meringue: 2 – Egg whites
• 4 tbsp – castor Sugar
Method:
To make the pie crust, sift together flour and salt. Cut in margarine with a knife till the mixture resembles large peas.
Sprinkle cold water and mix with a fork until the dough can be formed into a ball.
Roll out on a floured board and place in a greased pie dish. Fold the edges under to thicken, and flute attractively.
Prick all over with a fork and bake in a pre-heated oven (400 degrees F) for 10-15 minutes. Cool.
To make the filling: Sift together flour and salt. Add sugar. Gradually, stir in milk.
Pour into a double boiler and cook, stirring till thick. Remove about 1/2 cup of this mixture and beat in egg yolks.
Pour back into the milk batter and cook on low heat, stirring, till smooth and thick.
Remove from fire and mix in vanilla and butter. Cool. Fold in grated coconut.
Spoon into cooled pie crust.
To make the meringue, beat egg whites till stiff.
Gradually add castor sugar, beating all the while, till the mixture forms stiff peaks.
Cover the pie completely with meringue and seal the edges.
Bake in a pre-heated oven (350 degrees F) for 10-15 minutes.